WHAT IS MUBIL
MOBILITY EXPO?
It is the professional trade fair for the sustainable mobility ecosystem in its industrial and digital aspects. A space that brings together the main public and private actors in southern Europe where the needs of the present and the future challenges of sustainable mobility find their solutions.
WHAT
OPPORTUNITIES
DOES IT OFFER?
MUBIL Mobility Expo is a trade show focused on generating business opportunities throughout the sustainable mobility value chain. The main players in the mobility industry have endorsed the fair with their participation in previous editions.
It represents a privileged framework for automotive companies, electrical equipment, battery manufacturers, energy suppliers (oil, gas and hydrogen), infrastructure and network companies, service integrators, connectivity, Artificial Intelligence and Big Data, public institutions and fleet operators. It provides answers and generates business around vehicles, charging infrastructure, energy storage for traction or charging applications, electric and shared mobility services, on-demand and Mobility-as-a-Service transport solutions, micro-mobility services, global ecosystem and sustainable mobility markets.
Visitors are operators, buyers, city decision-makers and companies and service providers looking for new business opportunities.
WHAT ARE THE OBJECTIVES OF
MUBIL MOBILITY EXPO?
To be the showcase for innovation and progress at a European level in sustainable mobility.
To be the setting for exchanges between needs and challenges and products and solutions concerning the industrial and digital sustainable mobility value chain.
To disseminate the impact and the opportunities in the field of sustainable mobility for the industry.
To facilitate the connection between the various sectors involved in the sustainable mobility services: automotive, infrastructure, power, telecommunications and digital transformation.
To attract inspirational and/or international talent to the event.
To promote the generation of business among the participants.
To understand the challenges and trends in order to train new professionals who will respond to the future needs in this field.
To promote environmental sustainability.
Why in the
Basque Country?
Because the Basque Country is at the forefront of the regions that are taking initiatives regarding research, manufacturing, development and deployment of new products, services and other mobility solutions. It has an experienced and innovative industrial fabric distributed throughout the value chain, leading companies, technological centres widely recognised at European level, dynamic and specialised clusters, universities that unite talent, vocational training centres, entrepreneurs and public stakeholders that are pioneers in the definition and implementation of innovative solutions for mobility.
MUBIL HUB,
SUSTAINABLE
AND SUSTAINABLE
MOBILITY.
MUBIL brings together the efforts of public and private agents that promote initiatives in the field of smart and sustainable mobility in the Basque Country with the aim of making Gipuzkoa and the Basque Country a relevant player in the field of smart and sustainable mobility.
Next edition's date:
17 and 18 April 2024
Opening hours:
17th April: 9:30 – 18:00
18th April: 9:30 – 17:00
Previous editions:
2018, 2020 and 2022
Venue:
Ficoba Exhibition Center (Gipuzkoa- Basque Country)
Event's profile:
Professional
Visitors: target audience
Departament Manager / Area Manager
Inspection of potential suppliers
Decition making / purchasing
POTENTIAL VISITOR'S PROFILE
The tradeshow encourages the attendance of specialised visitors by organising a guest buyer programme: The Hosted Buyers programme consists of inviting public and private companies of national and international interest with plans to invest 200.000 € in products and services related to sustainable mobility for the next 2 years.
COMPANIES IN THE SECTOR BY NUMBER OF EMPLOYEES
Number of companies with more than 6 employees in 2020 in the sectors of reference*
Source: INE (National Statistics Institute)
(*) Sectors of reference: Manufacture of engines, motor vehicles, bodies and components for vehicles to motorcycles. Electricity and gas supply Sale, repair and maintenance of motor vehicles, motorcycles and accessories Land transportation Telecommunications Research and development Rental of motor vehicles
POTENTIAL EXHIBITOR'S PROFILE
WHAT IS THE PROFILE OF
THE EXHIBITORS?
Manufacturers, assemblers or sub-contractors of cars, motorbikes, vans, trucks, buses and trams
Manufacturers, assemblers or subcontractors of bicycles, scooters and other personal mobility vehicles (PMV)
Recharging infrastructure
Connected and/or autonomous mobility solutions
Intermodality, MaaS and on-demand transport solutions
Low Emission Zones management and control systems
Intelligent Transport Systems (ITS), Operational Assistance (OAS) and Passenger Information
Big Data, Artificial Intelligence (AI), Internet of Things (IoT), Blockchain, Infotainment and Cybersecurity
Digital parking solutions
Technology and research centres
Clusters, incubators and partnerships
Universities and vocational training
Public administrations / Institutional representation
Civil engineering, public works and infrastructure
Street furniture, tactical urban planning, traffic calming and accessibility solutions
Integral solutions in sustainable mobility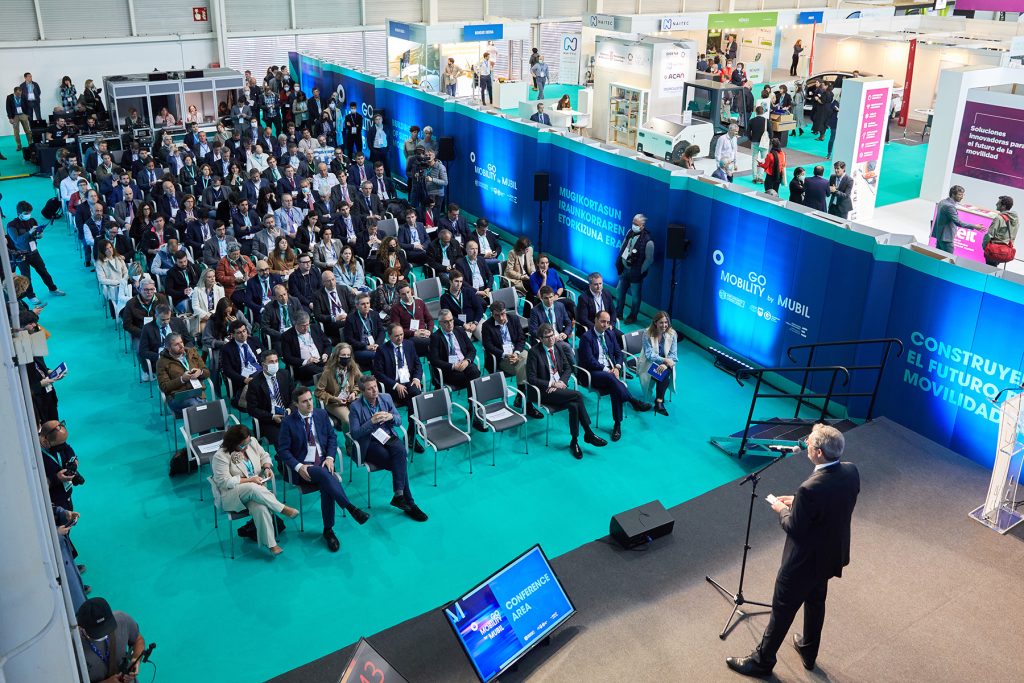 National and international speakers will offer their perspective on the development and future of…
Meeting point for European cities with specific challenges in sustainable mobility …
Demonstrations and test drives of vehicles / motorbikes / bicycles for visitors.
Guided tours of the MUBIL Center in Zubieta starting at the MUBIL stand.
MUBIL MOBILITY EXPO EXHIBITORS
WOULD YOU LIKE
TO EXHIBIT?